NEW PRODUCT ANNOUNCEMENT:
Weird Flex Boot OK – Quick Solder Kit for PicoBoot GC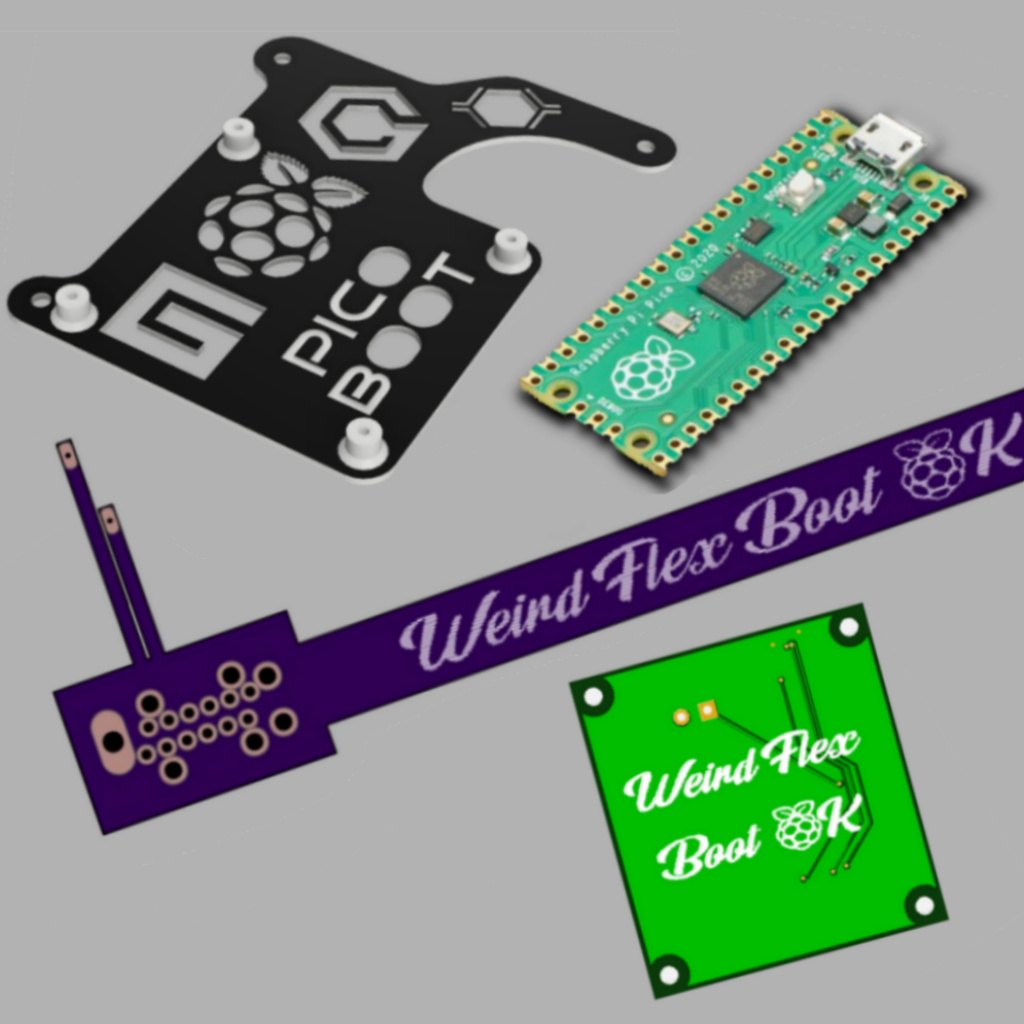 We are announcing today a new kit is being added to our Modcube product line: Weird Flex Boot OK.

This is a kit that includes a quick solder ribbon cable for the PicoBoot solder points, a PCB to solder the Pi Pico and connect the quick solder ribbon cable, and an optional mounting bracket to mount the PCB to your GameCube DVD drive metal shroud.

We are opening pre-orders for the kit either today 8/15/22 or tomorrow 8/16/22 and we will send an email and tweet a link to the page. Price will be $14.99 without the shroud and $19.99 with the PCB mount. Will start shipping between 9/15/22 and 10/1/22 depending on when we can get our assembly scheduled at the fabrication house.

After the design is finalized, we will be open sourcing the design under GPL license! Feel free to do what you want with the design. We open source because we ❤️ the community!

You get an order, you get an order… Everyone gets an order!
Last week a lot of hours were put in and we are happy to announce that (almost) everyone's orders have gone out! People with orders that have not gone out yet, do not fret. Your order has been cued on the printers and we will be processing the remaining orders as fast as we can print them. You will get an email with tracking as soon as we have your order assembled and ready for shipping.

Postman's Engineering Update
Production of the next batch of kits is well under way! This next batch of product includes GGHD, GBHD Advance SP, and a restock of standard GBHD Advance. We received word from the factory that the parts for GBHD Advance SP have arrived and the PCBs are being fabricated. They should ship from the factory very soon with the other two production builds close behind.

By next week's update, we will release our roadmap for the next year. We are excited to reveal what we have planned for everyone!

That's a Wrap!
That's all for this week's update, folks! We are excited to give you another exciting update on our progress in next week's news letter. Until then, have a great week and cheers!